hbics.livejournal.com posting in

levelesvoiles
Pretty Little Liars; Spencer, Emily, Aria, Hanna, Ali
minimix for

immortality
.
vaguely following the prompt
a part of me is beginning to tire of the lies. but i can't face the truth
. I hope you enjoy it. I jumped on this prompt because I've been sitting on
The Fear
being a Spencer and/or Liars in general song and this was the perfect place to use it.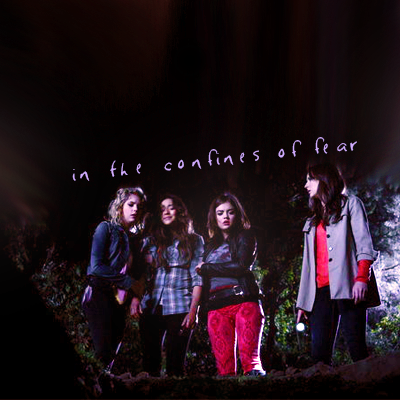 Had someone told them years ago, when they befriended a happy, outgoing and very much alive Alison Dilaurentis that they'd end up here, they'd have all called them crazy. They were best friends.

Spencer wonders if they would have made a different choice, had they known. Emily knows she wouldn't have. The pain was there for a reason. She wouldn't trade it away for a life without Ali.

To be honest, none of them would. Ali as she had been, had played a large role in shaping their lives. She's taught them valuable lessons. Still, sometimes they wonder... what if?

The lies all get so tiring.
✖

DOWNLOAD + + ♬
STUBBORN LOVE | THE LUMINEERS
she'll lie and steal and cheat, and beg you from her knees
make you thinks she means it this time
she'll tear a hole in you, the one you can't repair
but I still love her, I don't really care

FLAWS | BASTILLE
you have always worn your flaws upon your sleeve
and I have always buried them deep beneath the ground
dig them up; let's finish what we've started
dig them up, so nothing's left unturned

SLEEPING SICKNESS | CITY AND COLOUR
and I'm afraid
to sleep because of what haunts me
such as living with the uncertainty
that I'll never find the words to say
which would completely explain
just how I'm breaking down

BLANK MAPS | COLD SPECKS
I hold my breath, don't like to move
when the night comes, who will you be

THE FEAR | BEN HOWARD
oh I will become what I deserve
I've been worryin' that my time is a little unclear
I've been worryin' that I'm losing the ones I hold dear
I've been worryin' that we all, live our lives, in the confines of fear
→ comments are always appreciated :)
→ watch

levelesvoiles
for more mixes & graphics
→ enjoy ♥